Black Tea is enjoyed around the world as a refreshing beverage, and forms part of the morning routine for millions of people. But what exactly does black tea mean in simple terms? Black tea is quite simply the most popular type of tea in the western world and black tea leaves are used exclusively in our blends for Earl Grey, Breakfast Tea and Afternoon Tea to name a few. Black tea infuses with the hot water to conjure the delicious golden brew which is adored by households around the world.
A history of Black Tea:
Black Tea is the primary ingredient for the majority of our signature collection which includes our best selling Great Rift Breakfast Tea and Virunga Earl Grey. Like green tea leaves, black tea leaves come from the Camellia Sinensis plant but, unlike green tea, black tea is fully oxidised, resulting in a rich, bright cup of tea.  Black tea originated in China during the 1600s and gained mass popularity in the West during the British expeditions to China which began in 1793. The British discovered the great taste of tea and began importing the tea leaves to various points of the British Empire. Whilst British relations with the Chinese were strained due to a lack of understanding in cultural terms, the British continued to plough silver into China in order to satisfy the growing demand for tea. This occurred despite their frustration over trading regulations and having to pay in Silver, a resource Britain lacked and thus showing how popular tea had become. One of the fundamental reasons we enjoy black tea in the west is due to the transportation of black tea leaves. Black tea leaves would remain fresher for longer, especially in comparison to green tea. By the 1800s the British had begun planting tea gardens in India within the Darjeeling region, hence creating the popular modern day variety of Darjeeling Tea.
A staple of British tradition:
During the years in which demand for tea soared, the quality of the blend was sacrificed in exchange for quantity in order to satisfy such huge demand. At Birchall, we strive to identify the very best regions for tea growing and it is our mission to deliver full flavour to you. We are extremely proud of our signature black teas, the summation of knowledge passed down through five generations. Our pursuit of perfection has driven us to offer a tea tasting experience second to none. In the modern world, quality is much more important than quantity as individuals appreciate the rich taste of a good cup of tea.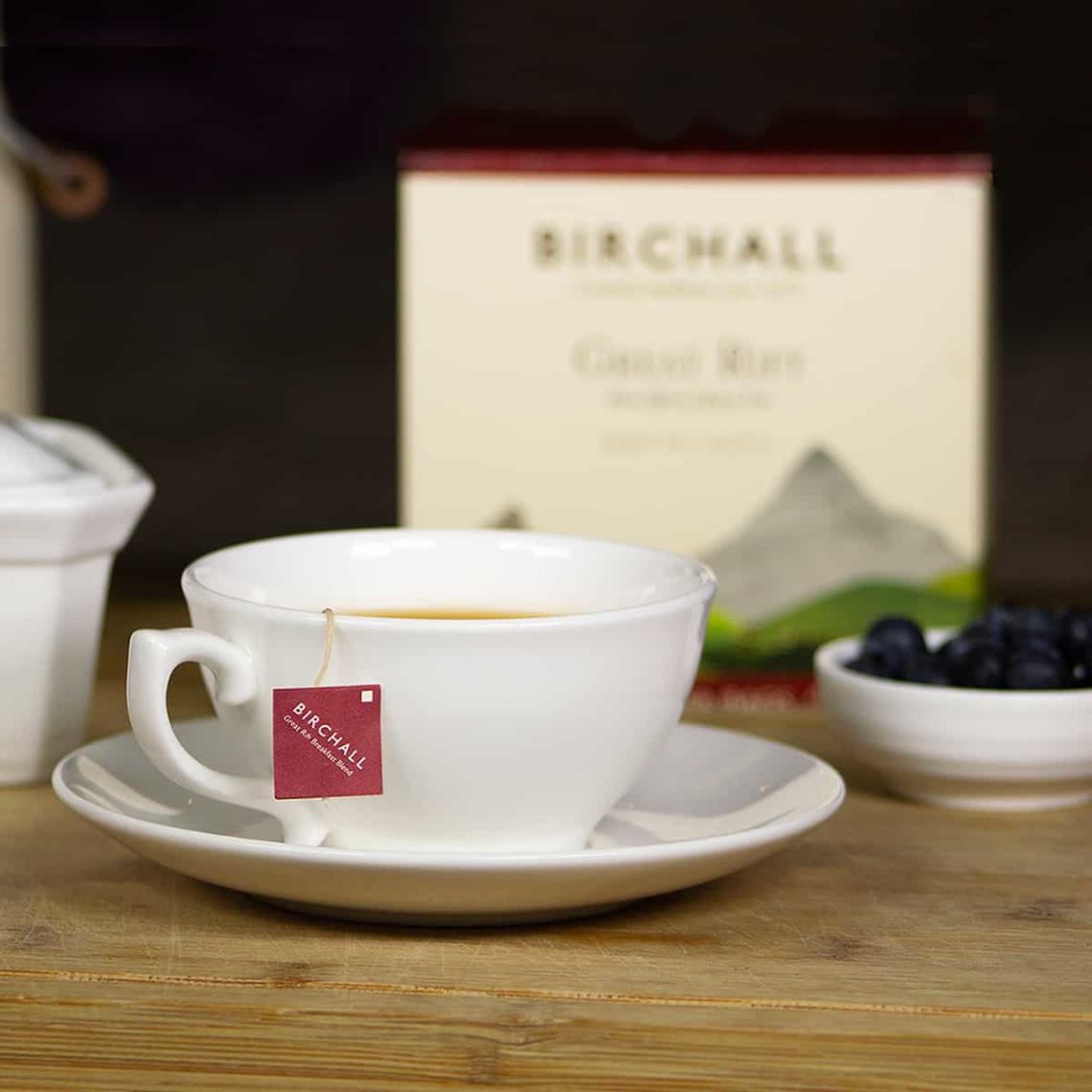 Our quality promise:
Since 1872, it has been our family tradition and long-time passion to cultivate great tasting tea. Our meticulous approach to our tea tasting and selection ensures that only the best leaves are used to make our exquisite blend. We believe every cup of tea should represent a great taste experience, and we are proud of the rich flavour associated with Birchall black teas. Our tea collection is always 100% pure main grade black leaf tea which means no powder, dust or stalk is added. As soon as our teas are selected we preserve the full flavour by packing our teas within 8-12 weeks of picking. This is against an industry standard of around 4-6 months and allows us to maintain the high-quality taste you enjoy today. Our tea tasters dedicate up to 5 hours to tea tasting a day and it takes up to 5 years, or roughly one million cups, for a tea taster to truly develop their tea tasting skills and be eligible to become a Birchall tea taster.
Responsibilities:
We have always taken our responsibilities to the environment very seriously and remain committed to continually reducing the impact of our company's trading activities upon it. As part of this ongoing commitment, we are a long-standing member of the Ethical Tea Partnership and have offered both Fairtrade and Rainforest Alliance Certified Teas within our product range for nearly 10 years.